Whether you are an expat residing in Bahrain or just a visitor looking for the best attractions the kingdom has to offer, here we share some famous tourist spots for you to check out. While you rest in your accommodation after your flight, it's good that you are aware of the common places to visit for you to enjoy sight-seeing.
Also Read: Bahrain Bus Transport Guide
Bahrain is one of the most visited countries in the Middle East as it houses different tourist destination spots. Aside from looking for great job and business opportunities, expats visit in Bahrain to experience its beautiful landscape, whether it be beaches, architecture, historical spots, etc.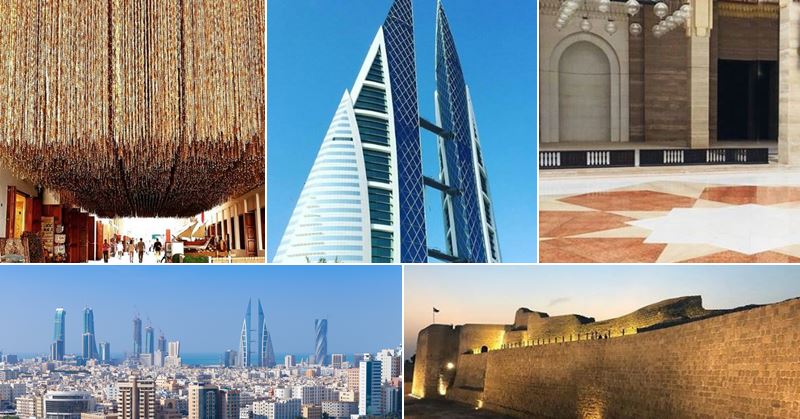 10 Best Tourist Attractions in Bahrain
In this article, we're going to talk about the top places in this country that you can actually visit during your spare time. Whether you are someone who works during the day or night or just a visitor, these places are open for your eyes to see. We've also shared some pictures of these famous tourist areas.
1. Al Fateh Grand Mosque
Location: Awal Avenue Corner Al Fatih Highway Bahrain
Built in 1988, this mosque can accommodate up to 7,000 audience. Be amazed with its marble, tweak woods, and glass structure. Don't miss out the most attractive part of the mosque–which is considered as the largest dome–as it gives a very interesting view at night given it is made up of fiber glass.
View this post on Instagram
2. Bahrain Trade World Center
Location: Manama, Bahrain
Bahrain Trade World Center is a definitely must-visit place! The height of the building is approximately 787 ft with 50 floors connected by sky bridges. This spot has won 2 noble awards for having the best architectural, dramatic, and inspiring design.
3. Bahrain National Museum
Location: Shaikh Hamad Causeway, Manama, Bahrain
Bahrain National Museum is standing in the heart of Bahrain and currently holds the title for being the most alluring establishments in the country. Don't miss out the melodramatic scenery as it is the first museum in Bahrain that has a sea front view and has lived for 6,000 years in history.
4. Bab Al Bahrain
Location: Bab Al Bahrain Ave, Manama 304, Bahrain
Bab Al Bahrain is one of the most amazing markets in the country. If you want to have a great shopping experience with a touch of Bahrain beauty, head to this market and be fascinated with how the place managed to put shops selling vegetables, fruits, clothes, jewelries, and crafts in a huge nice place.
5. Bahrain International Circuit
Location: Sakhir, Bahrain
This place is great for people seeking unique sports events. The Bahrain International Circuit holds events like drag racing, v8 super cars, desert 400, and grand Prix. If one of these activities interest you, go visit this place and be amazed with their tracks and other tools for racing.
6. Riffa
Location: Riffa, Bahrain
Riffa used to be the biggest city in the country and is sitting in the heart of Bahrain. After roaming aroung Manama, you can pay a visit in this city and look over its old world character, shop in Arabic bazaars, and buy your pearls and jewelries.
7. Amwaj Island
Location: Juffair
Don't miss out the perfect view of Amwaj Island. You can find a lot of good stuff here such as luxury apartments, whitewashed towers, and private jets and yachts.
View this post on Instagram
8. Qal'at al-Bahrain
Location: Al Qalah, Bahrain
This is also known as the Bahrain Fort or Portuguese Fort and is a famous archaeological site where excavations have been done since 1954. It provides a rich historical background with various antiques and artifacts. In fact, the fort is believed to have been around for over 5000 years and distinctly showcases a glimpse of he Copper and Bronze Ages of Bahrain
View this post on Instagram
9. Muharraq
Currently, Muharraq is the entry and exit point of Bahrain because it is where the Bahrain International Airport is located. The place is touched by the Greeks during the time when they started their powerhouse routes in the country. This place dates back from Dimlum Civilization but is now a haven of cafes with hookah pipes and mint tea.
#10. Hawar Islands
Taking a break from the city is needed sometimes. If you happens to be someone who enjoys an arid place, you can visit Hawar Islands in Bahrain. Although it is not suitable for swimming, you can enjoy watching endangered Socotra cormorant as they wander the shorelines of the island.
Make sure to pay a visit in each of these places during your rest days and spare time. For sure, you won't be bored to check out the surprises Bahrain has to offer for you. As a reference, you can check out the official website of the Bahrain Tourism Authority here – https://visitbahrain.bh/