Are you new to Dubai and wondering how you can create your DEWA account? Don't know what DEWA means? Expats in UAE and those who are planning to live and work in Dubai, you need to at least have a basic knowledge about setting up your DEWA account for your own convenience. You will be able to use this throughout your stay in this city so you better learn how to do it now!
Also Read: UAE Employment Hours, Leaves and Vacations
Who wouldn't get worried about living alone without electricity and water connection? In Dubai, even if you don't know somebody else, there is an easy way to process your basic utilities. And because it's simpler and easier to process everything online, the government has come up with a DEWA account that should be owned by every resident who needs utilities in the country. Here's what you need to know when setting up your DEWA account.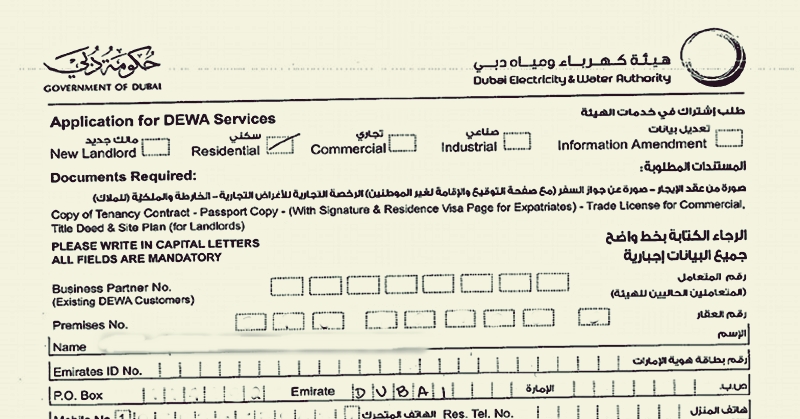 What is the DEWA account?
DEWA stands for Dubai Electricity and Water Authority. This authority provides both electricity and water connection for residents here in the city. Thus, the DEWA account is your own record with DEWA wherein all relative information is listed and stored. S
Application Procedure – Offline
Application Procedure – Online
Fill out the DEWA new connection application form online.
Secure and attach the document online:

Tenancy agreement passport with valid visa page or trade license.

Pay the security deposit online through ePay.
Also Read: How to Apply for Alcohol License in Dubai, UAE
Reminders When Setting Your DEWA Account
If your company will pay for your property in Dubai, you must secure the following documents before setting up your own DEWA account:

No Objection Certificate from your company
A photocopy of the trade license of the company
A passport copy of the authorized signatory of the company

The security deposits are mandatory but they can be refunded upon moving out of the premises. There are basically two kinds of security deposits: AED 2,000 for apartments and AED 4,000 for villas.
The connection fees, or what they call the setup charges, are non-refundable and amount to AED 110.
Now that you know the basic guidelines when applying for electricity and water in Dubai, start setting up your account! Don't forget to share this with your families and friends who are also in the same city.