Oman isn't a very popular country. However, just like other regions in world, it has its own beauty not everyone has seen. Other than the opportunities to work in this country, Oman has a lot to offer especially for expats and tourists who are planning to make a visit. A lot of amazing establishments and tourist spots are in Oman, waiting for the world to be seen. If you are someone who finds yourself lingering around the region, this article is for you.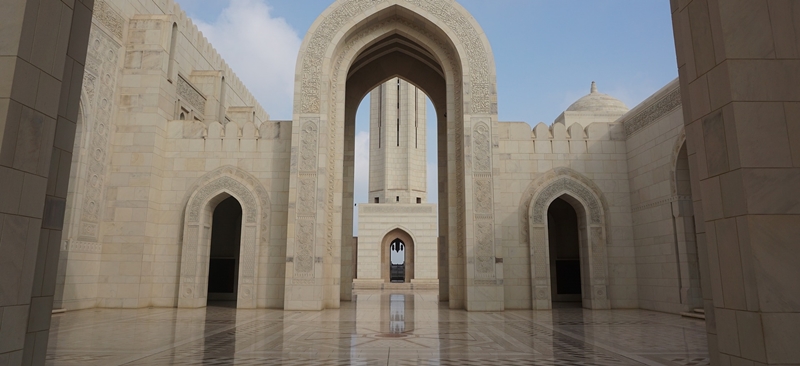 Top 10 Places in Oman You Should Visit
#1 Stan Qaboos Grand Mosque
Location: Muscat, Capital of Oman
Type: Mosque
What to expect: This place will you give an indoor experience. Being an aesthetic modern mosque, you will be able to see a lot inside such as the main prayer hall featuring a huge chandelier and detailed mosaic tiles. You wouldn't want to miss the second largest Iranian rug as well!
#2 Sur
Location: Sur
Type: Desert and Beach
What to expect: The place is a combination of a desert and beach. If you are tired after a long walk in the desert, the long empty beach will surely give you a reassuring rest! You will also get a free overview of the fishing village of Al Ayjah, the turtle reserve at Ras Al Jinz, and a dhow boat building yard. If you plan on getting to these places as well, everything is accessible—from transport to sleeping quarters.
#3 Wadi Bani Khalid
Location: Near the highway connecting Muscat and Sur
Type: Wadi
What to expect: This place is very accessible, especially if you are from Muscat going to Sur as this is just nearby the highway you are going to use. This place is a perfect oasis in a desert. You don't want to miss swimming in the crystal water of this oasis!
#4 Wadi Shab
Location: Al Sharqiyah
Type: Wadi
What to expect: This place is also accessible on the way from Muscat to Sur, like the Wadi Bani Khalid. Unlike the Bani Khalid, this place requires your adventurous spirit. To see the stunning valley and different pools in the place, you have to cross the river and hike.
#5 Misfat al Abryeen
Location: Misfat al Abryeen
Type: Village
What to expect: This place is an old village still domiciled by Oman tribes. If you are interested to historical places and people, you should visit this village. Just below the village, you can find banana plantations guided by the falaj irrigation. What a historical and environmental friendly place!
#6 Nizwa Fort
Location: Nizwa
Type: Village, Fort
What to expect: Although can be considered as village type, Nizwa Fort is made purposely for visitors. You can visit the place to have a stunning view of the region's mountains, souq, and mosque. There are also available towers which you can climb in order to view these sceneries. Other than site seeing, you can also see jewelries, tools, and alike items that are available for viewing.
#7 Jabrin Fort
Location: Near Nizwa and Jabal Akhdar Mountains
Type: Fort
What to expect: The place is like a sand castle between Nizwa and Jabal Akhdar mountains. The place is great especially if you want to see the rocky mountains of the region. As historical as it can get, you will see different defensive tactics in the place like the murder holes and the floor gaps for pouring boiling date oils to enemies.
#8 Jebel Akhdar
Location: Birkat al Mawz
Type: Mountain
What to expect: This place is mountain type. It is also near Nizwa or Muscat, if ever you are from those places. Here, you can see existing villages and lands that grow pomegranates, apricots, peaches, grapes, and roses that are usually use to make perfumes. Make sure to not miss a Spring visit to see how roses bloom on this place.
#9 Mitra Corniche
Location: Muscat
Type: Bay-view
What to expect: If you are in Muscat, the capital of Oman, you might want to pass by this place to see a combination of buildings, rocky mountains, and golden rays of the afternoon sun. You can join the locals and wait for the sun to set here.
#10 Wahiba Sands
Location: Wahiba Sands
Type: Desert
What to expect: This place will definitely give you a legit sand experience. You can go for camel rides, rolling sand dunes, and 4WD activities. Don't forget to spend a peaceful night while gazing at the stars above!